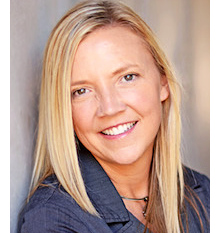 Kim Eaves is the CEO and President of Affiliate Solar. Kim grew up on an Idaho farm and now lives in California with her husband and four kids. Her early experiences shaped her later business ventures. Her entrepreneurial spirit emerged when she was just eight years old and launched her first business – gopher trapping for $1 a gopher. When the state stopped paying for gopher extermination, she moved on, undeterred, to selling school papers to her brothers and friends all before high school.
In high school, she worked at the hospital while pursuing her education and competitive sports. Kim graduated with honors and attended Brigham Young University on scholarship at the age of 17. At the age of 21, she got hired on as a temporary at then software giant, Novell. She worked her way up from a temporary employee to an executive over all the web sites globally.
While working at Novell, Kim knew she was capable of more and didn't want to ever hear the three words that strike fear in the hearts of employees everywhere: You're laid off.
So while still at Novell, she started an online food business as well as a plumbing company with her husband, Randy. While running two businesses and working at Novell, Kim became an independent business owner with the energy, telecom, and merchant services provider, ACN. Kim rose quickly in ACN and became a Regional Vice President with the company. She was selected twice to be a judge on Celebrity Apprentice with Donald Trump and has also been featured in Success from Home magazine for the last five years as a top leader in the company.
Kim has a no-limits, go-with-her-gut mindset. She, along with the other leaders at Affiliate Solar, are laying the groundwork for the largest affiliate solar referral company in the world. She is working to create a company culture that infuses happiness and personal ownership into its business model. The vision statement, to deliver energy to the world through solar and always remembering that customer service and integrity reign supreme, has drawn new and repeat customers and affiliates to the company.